PPPOE protocol is a common way to connect to the Internet for most consumer networks. It provides more flexibility to the ISP, and it can easily manage your connection by using authentication, subscription, bandwidth usage, etc.
Usually, you will have an ISP cable connected to a modem; it could be fiber or DSL, which gets connected to your router or a firewall. The router/firewall provides wireless or wired connectivity to your Local area network.
There are times you would want to connect your Windows 11 client machine directly to the PPPOE network instead. So is it possible to do that? If yes, how do we do it?
I got Internet access from my ISP which uses PPPoE protocol. That is connected directly to my modem using a fiber cable. That modem then connects to the router, and that's how I access the Internet regularly.
Right now, let's imagine I don't have the router, and the only way I can connect to the Internet is by plug-in the connection directly to my Windows PC.
So first, you need to make sure you have the username and password to connect to the Internet from your Internet Service provider.
Secondly, you need to clear the MAC address from the ISP side.
Some ISP uses MAC caching, For example, if you connect a firewall or a router to the PPPOE network for the first time, it registers those device WAN interface MAC address with the ISP system.
And when you connect another device, you will not be able to connect until the ISP clears the existing MAC address from it's system.
Once ISP clear the mac address and you connect new device, the ISP will register the new Mac address.
If you're planning to do these steps, ensure you call up the ISP and tell them to clear the Mac address from their side beforehand.
Note: Not all the ISPs do the MAC caching, so it is best to check with them before we proceed.
Is it safe to connect windows 11 directly to PPPoE network?
In the normal WAN(Wide Area Network) network, you will have a firewall at the edge of the network, and most of the end-users machines such as Windows or Linux are connected behind those firewalls.
These end-user machine operating systems, such as Windows 11, aren't designed to connect directly to the Internet WAN link;. However, it has a firewall capability built into it. It's not so robust as the regular firewall.
So it is not safe to connect your Windows 11 machine directly to the Internet using the PPPOE link because there are people who are doing the brute force attack at all points of time. With different combinations of random credentials and port numbers. If you are unlucky and you have RDP or management protocol enabled on the interface. There are chances that attackers can gain access to the system.
Let me give you a real-life example, – One of my friends connected the Windows server to the Internet directly using PPPoE. Unfortunately, he had used a weak password. He doesn't know much about the network, and later that week, he started complaining that he could not see some of his files on the Windows machine. Then he asked me to take a look.
After I logged into it, I saw so many weird scripts and tools in one of the directories, to which my friend answered he doesn't know what these files are all about.
So I informed him that his system had been compromised, go ahead and disconnect it from the network. Though it happened to him it doesn't mean it will happen to everyone. If you take the right precautions, you can connect the window11 directly to the Internet and use it.
Some of the security practices are,
Instead of using regular windows firewall or defender, get a third party internet security such as F-Secure Internet Security. I'm using it right now on my Windows machine.
you can Get F-Secure trial license by clicking here.
Restrict specific inbound connections from the Internet only if it is necessary, by default the third party F-secure internet security would block all these traffic.
If you are using RDP, make sure not to use the default port number 3389. Instead, you may try 33890 or something.
Ensure the latest windows update has installed on the system.
Only connect the machine after above are in place.
How to connect to the PPPOE network on Windows 11.?
1. Goto-> Control Panel->Network and sharing center.
You need to view large icons or small icons to see the network and sharing center.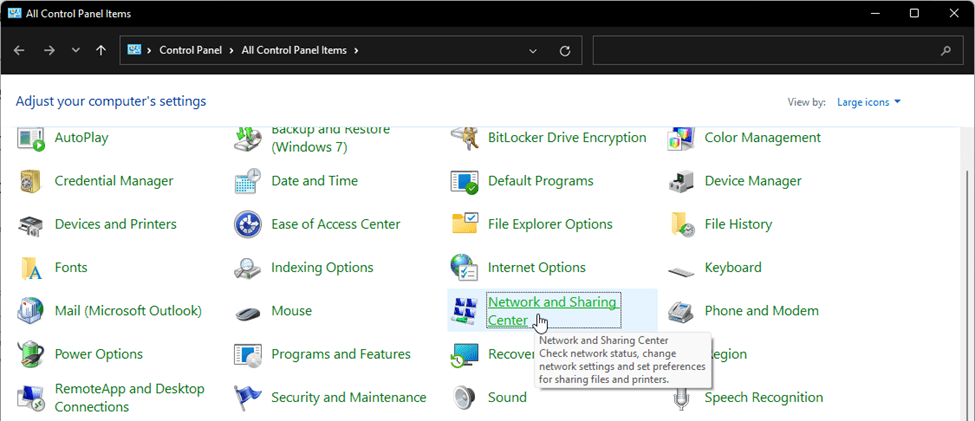 2. Click on set up a new connection or network in the network sharing center options.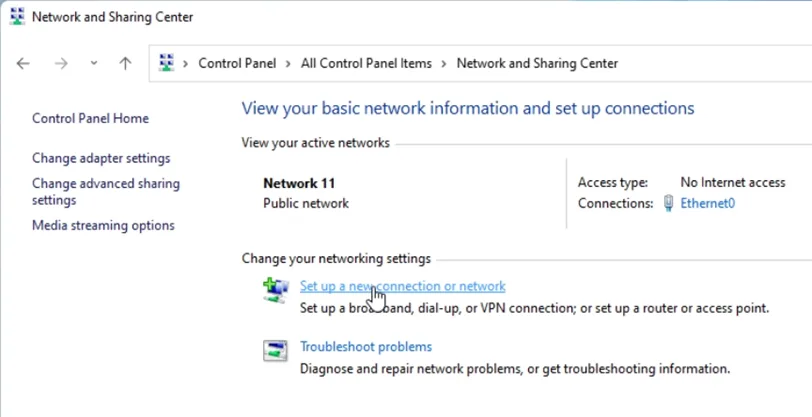 3. Connect to the internet.
A new Setup a connection or network window would pop up to set up a network. You have to choose to connect to the Internet. And click on next.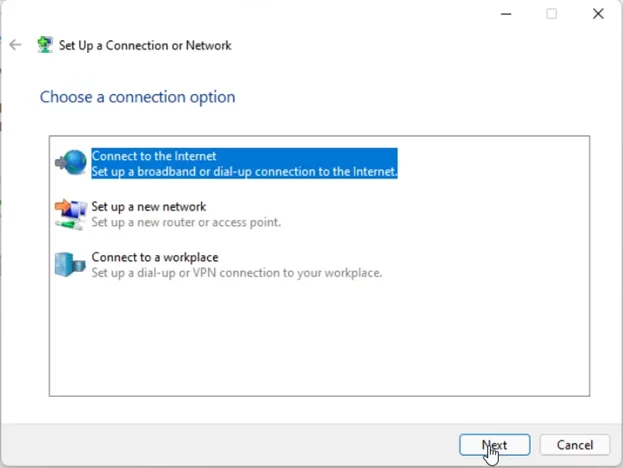 4. You will be asked how do you want to connect to the Internet. You have to click on broadband PPPOE.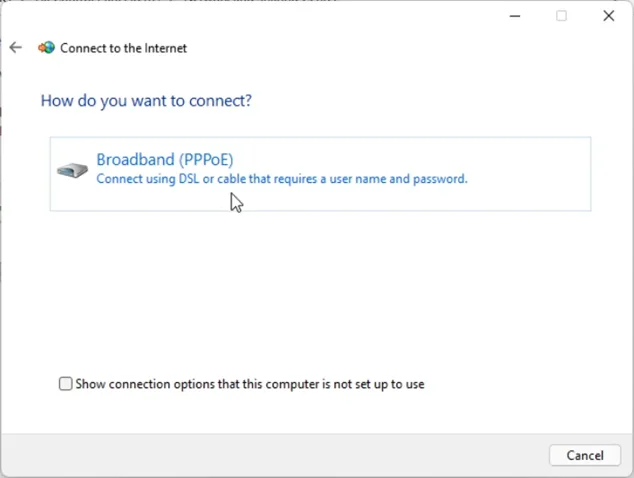 5. Enter the credentials.
After you choose the PPPoE network, you'll have to enter the username and password you received from the ISP. You may also add the connection name or maybe your ISP name in the connection name field. And click on connect.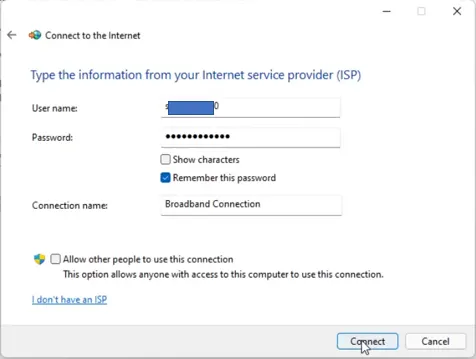 After you click on connect, you will see it is testing the connection, and eventually you'll get a confirmation that says you are now connected to the Internet.
You may close the confirmation window here.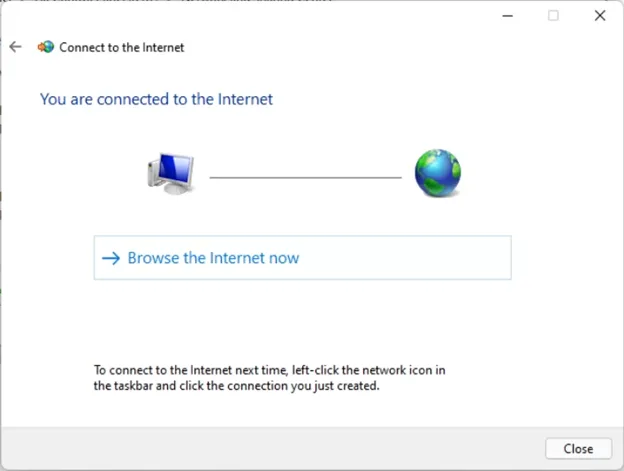 6. Test the network.
To test the network, goto the command prompt, and if you do ipconfig on the command prompt, you will see an adapter called PPP adapter, and it has a public IP assigned to it, which means the Internet is directly connected to your machine.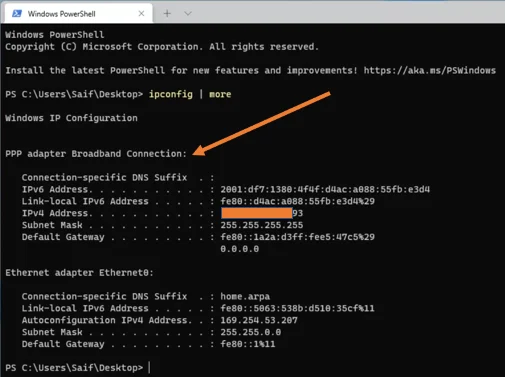 That's it. You have successfully connected to the PPPOE network from your Windows 11 machine. And you are good to go.
How to delete the PPPOE connection on windows 11?
If you're wondering how you go about deleting the PPPoE network from Windows 11, It's pretty straightforward. All you have to do is head back over to the network sharing center.
Click on Change network adapter settings on the left side.
You will see a network adapter called Broadband Connection. And right-click on that and click on disconnect.

Alternatively, you can double click on that interface, and in the popup, general tab, you may click on disconnect.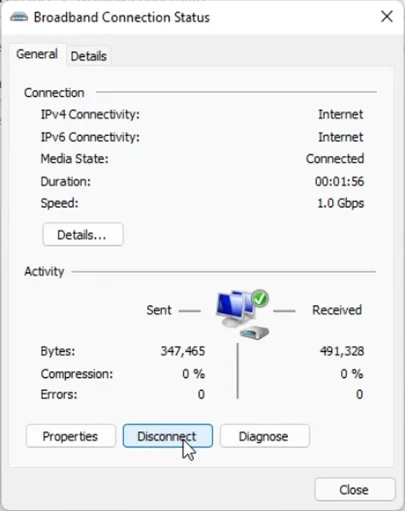 After the internet is disconnected, you may right-click and click on delete, and that's it. You have removed the configuration you just made for the PPPoE in your windows 11 machine.