When you are a network engineer or a developer, you may want to test your skills in a virtual environment rather than playing with your machine or production environment. Because you never know what could go wrong.
What is VMware's Workstation and Fusion?
VMWare workstation pro is a Software program that would let you install different operating systems, be it a Windows or Linux virtually on your physical machine. The resources your physical machine (host) has, that would share among the VM's.
There are free versions of the alternate products out there as well, VirtualBox for example. But that doesn't support many features which Workstation support, hardware acceleration is one such feature.
For those who use the MAC machine and looking for virtualization software, you shouldn't be using VMware workstation; instead, you should use VMWare fusion pro. Both softwares are very identical, and steps performed here are almost the same for both workstation pro and the fusion pro.

I know some of my friends and colleagues personally who loves MAC Operating systems but wanted to use Windows OS as well at times and they are using VMware fusion pro to run windows VM in MAC machine. That way they can switch between the host machine (MAC OS) and the guest machines(windows) anytime they want.
Creating Ubuntu VM in VMware workstation is easy, and In this tutorial we are going to see how to install ubuntu in VMware Workstation Pro 15, even though we use the Ubuntu version 19.04, the steps mentioned here are the same for the older version of ubuntu as well.
If you are looking for a free option then I have covered the installation of Ubuntu 19.04 on VirtualBox steps here.
Required files for the installation of the Ubuntu on VMware workstation
VMware workstation Pro 15 for windows and Linux – Click here to download.
If you are MAC user – VMware Fusion for MAC – Click here to download.
Ubuntu VMware19.04 – Click here to download (it is a normal ISO file)
How to install Ubuntu in VMware Workstation 15 ?
1. Creation of the VM.
I hope you have downloaded and installed VMware workstation on your machine. Open VMWare workstation pro and Click on File and click New Virtual Machine.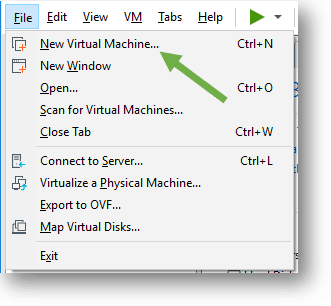 2. Select the VM configuration type.
Since we are not looking for any advanced method, let's check Typical and click Next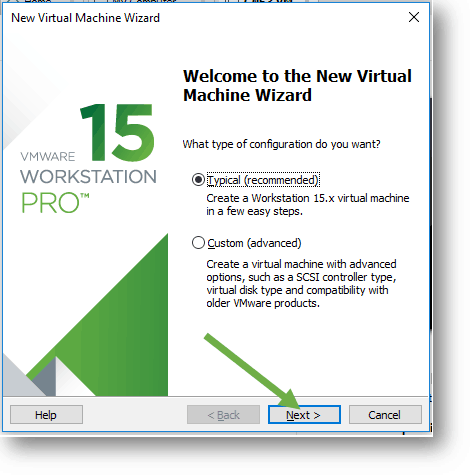 3. Attach the Ubuntu 19.04 iso to Workstation.
This is the place where you need to add the ubuntu 19.04 iso file, check the default option which says Installer disk image file (iso):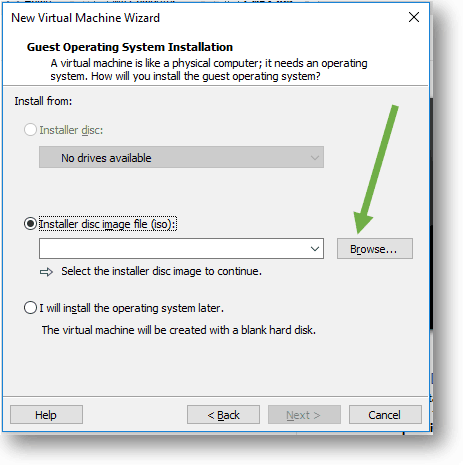 Browse the Ubuntu iso file you just downloaded.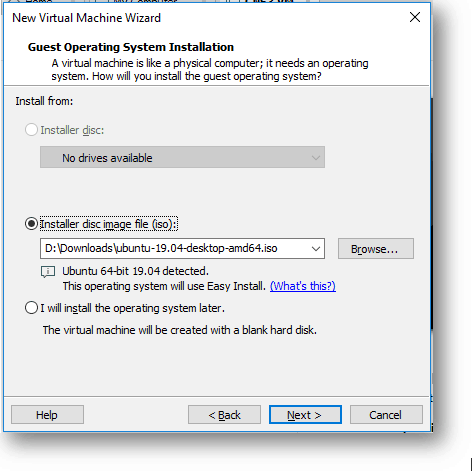 4. Setup the credentials for your Ubuntu machine.
You need to define the credentials that you are going to use with the Ubuntu VM. Remember to make a note of these credentials, as you need it later to login.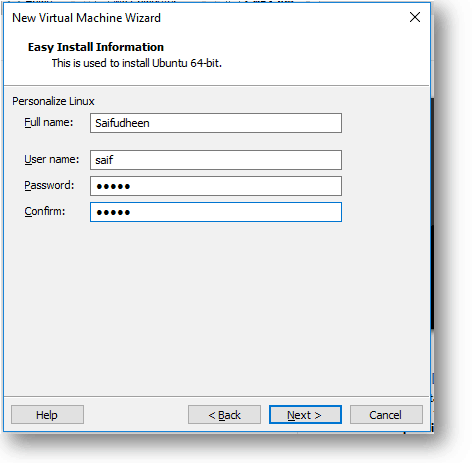 5. Name the virtual machine name
Name the Virtual machine name and I am naming it as Ubuntu 64bit.

6. Finalize the installation location.
In the same window you can select the location where you want to save the virtual disk image, I would say just leave it as default. Since I have more space on D drive, I am keeping it there.
If you would like, you can change the location by clicking browse.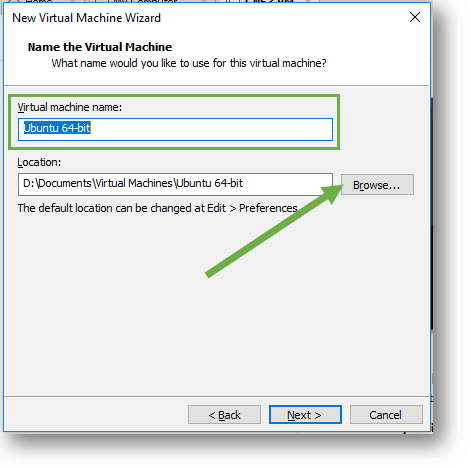 7. Configure the Hard-Disk
You need to define the storage space for the VM hardisk, by default it would pick up Maximum Disk size as 20GB, You may change it if you want to.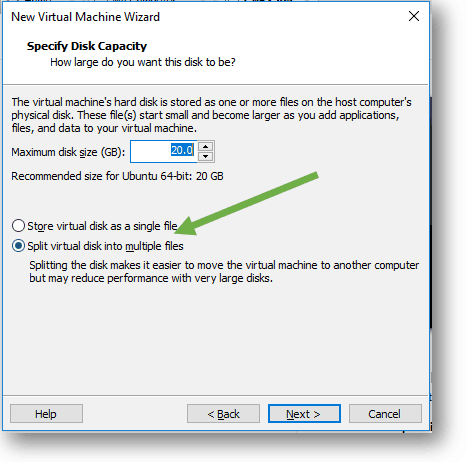 8. Customise Hardware
Now you are ready to create a Virtual machine. Here you can see the properties that you are going to use for this VM. If you want to make changes to any of the details, then click on Customize Hardware.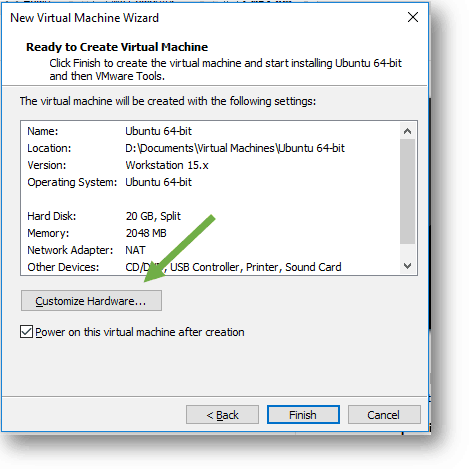 I wanted to change the RAM for this VM from 2GB to 4GB, so I changed the memory to 4096.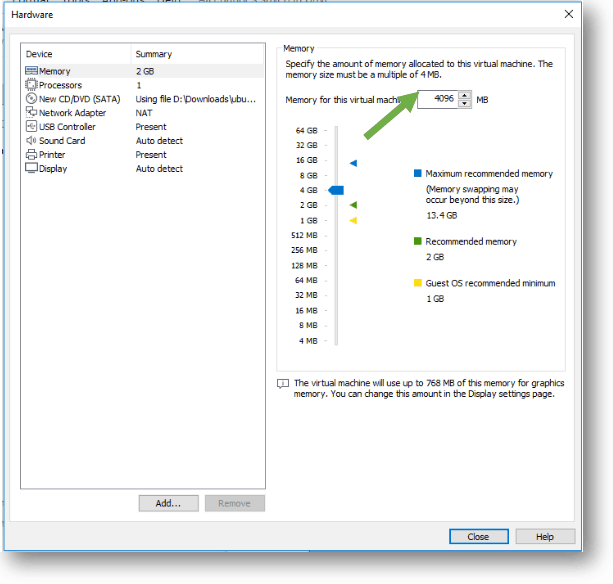 9. Choose the VM network as Host-only
Also, change the Network adapter from NAT to host-only adapter.
This will not let the VMware guest VM connect to the host internet during the installation, and that would avoid the Ubuntu VM to download the updates automatically using the internet.
TIP# If you are opting for an automatic update right now, that would take a long time to finish the installation.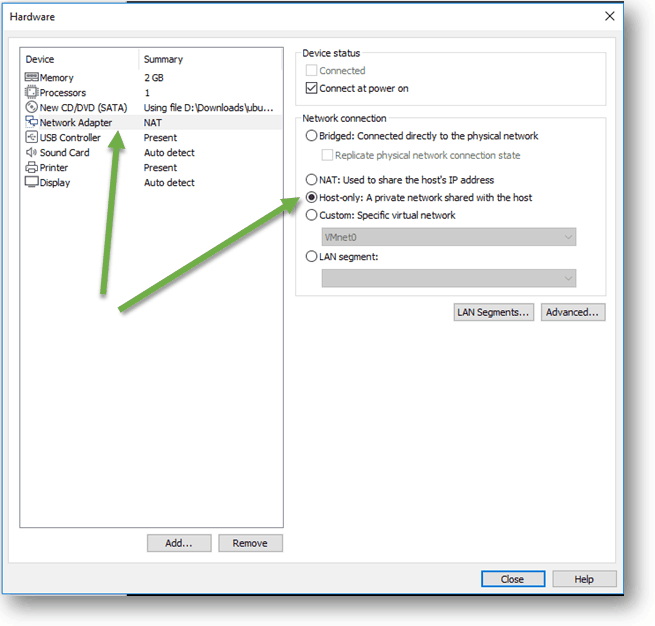 10. Begin the Ubuntu installation.
Once you click finish on the virtual machine wizard, the Ubuntu installation would start automatically, this may take a bit of time.
Once completed, and after basic Ubuntu system setup you would be able to see the Desktop of the Ubuntu 19.04
---