I have covered few blog posts in the past about installing VM's such as Centos, Ubuntu, Windows on different hypervisors. However, installation of CentOS 8 on vmware workstation was totally different story.
When the CentOS 8 came out I thought let me spin up the CentOS 8 on my VMware workstation.
Guess what ?, The installation didn't succeed.
during the installation process, I got an error message that said section %packages does not end with %end.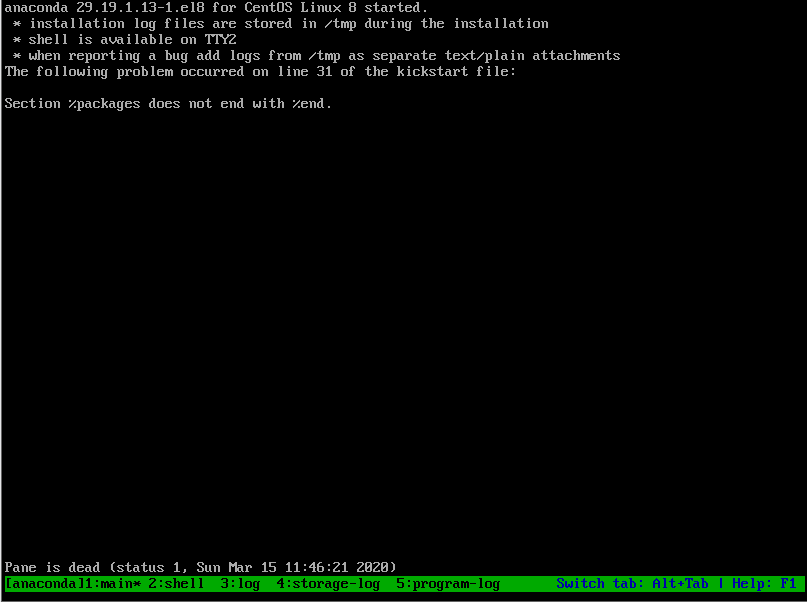 That's not good, and after some trial and error I found a way out to install CentOS 8 on Vmware workstation pro 15.5 successfully. So lets get started.
Read also,
Install Ubuntu On VMware Workstation pro
Install Linux Mint On VMware Workstation.
How to install windows 10 in VMware workstation
Prerequisite
Though this article is for the CentOS version 8, it works on other versions as well. You may download the centos 7 or 8 clicking here.
You can get VMware workstation pro here.
How to install Centos on Vmware workstation pro ?
Step 1. Creation of the CentOS VM.
In VMware workstation click on File–> New Virtual Machine. A New virtual Machine Wizard windows now pop up.
Check the option which says Typical and click on Next.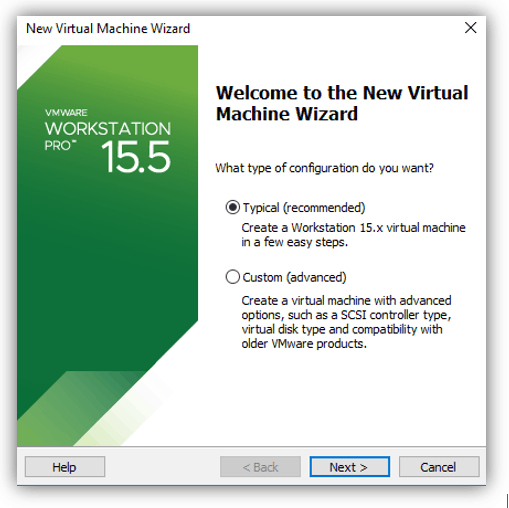 Step 2. Choose to install the operating system later.
On the next screen, instead of choosing the installer disk, select 'I will install the operating system later' and click Next.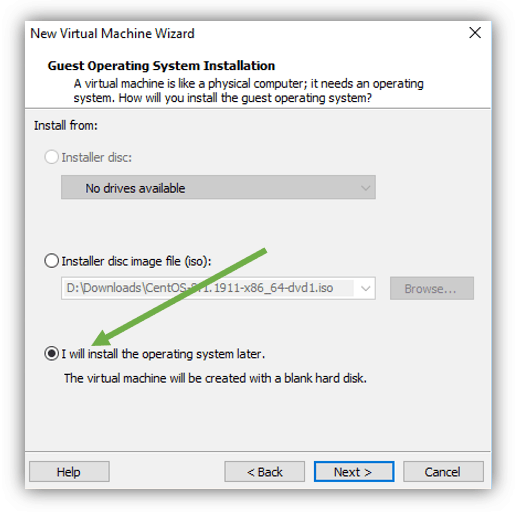 Step 3. Select the version of the operating system.
Since I did not select the ISO image during the installation, I would have to manually select the version of VM that I am going to install.
In the Guest Operating system menu, select Linux as the operating system and from the version drop-down select CentOS version 7 64bit and click on Next.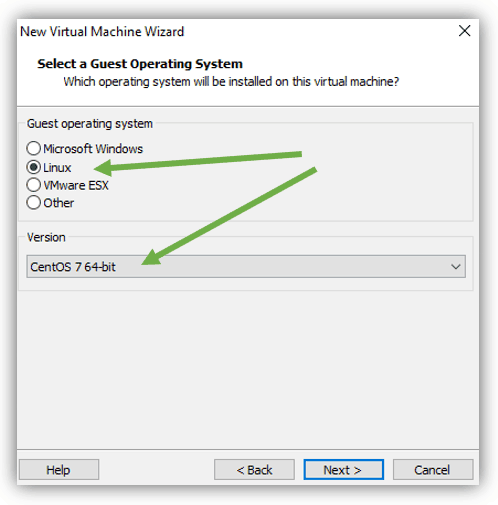 Step 4. Name the Centos Guest OS.
You can name it whatever you like for the guest OS. I have named it as CentOS 8 and selected a different location where I wanted to install the operating system.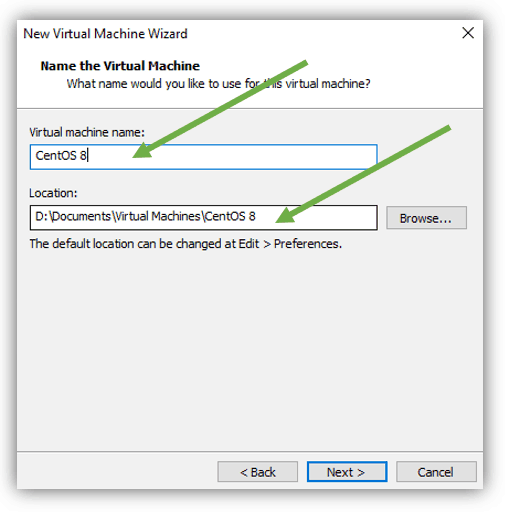 Step 5. Specify the Storage for the CentOS.
On the Specify Disk Capacity window I am leaving everything as default including the storage size as 20 GB and click on next. You can change it depends on the storage capacity that you have.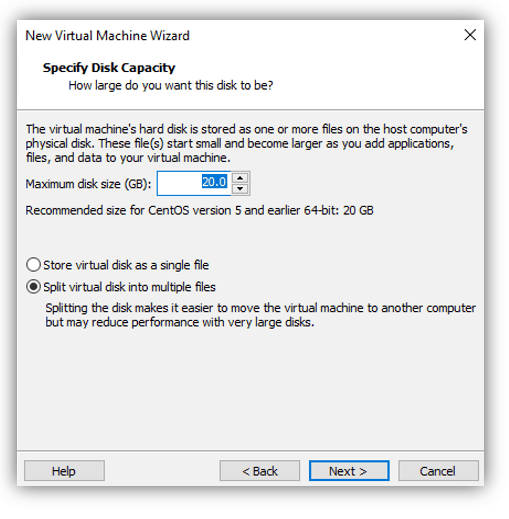 Step 6. Configure the Memory for the Guest OS.
By default, the VMware workstation would pick the Memory as 1024 MB and the CPU as 1. I am not so happy with that hence I decided to change, so click on customize Hardware..
If you would like to keep the same default value, you may do so.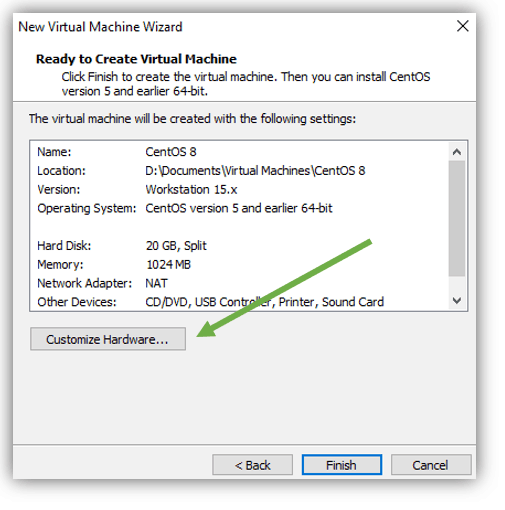 On the hardware windows I resized the memory as 2 GB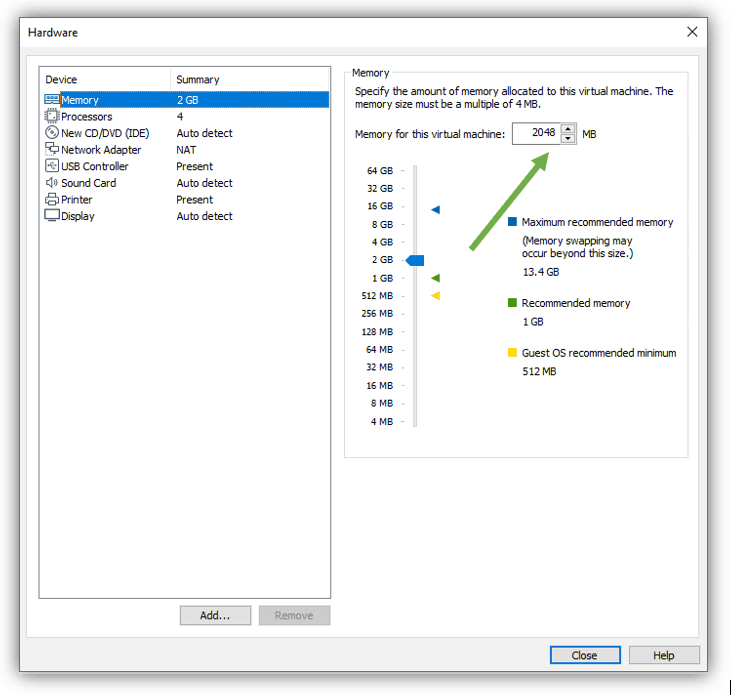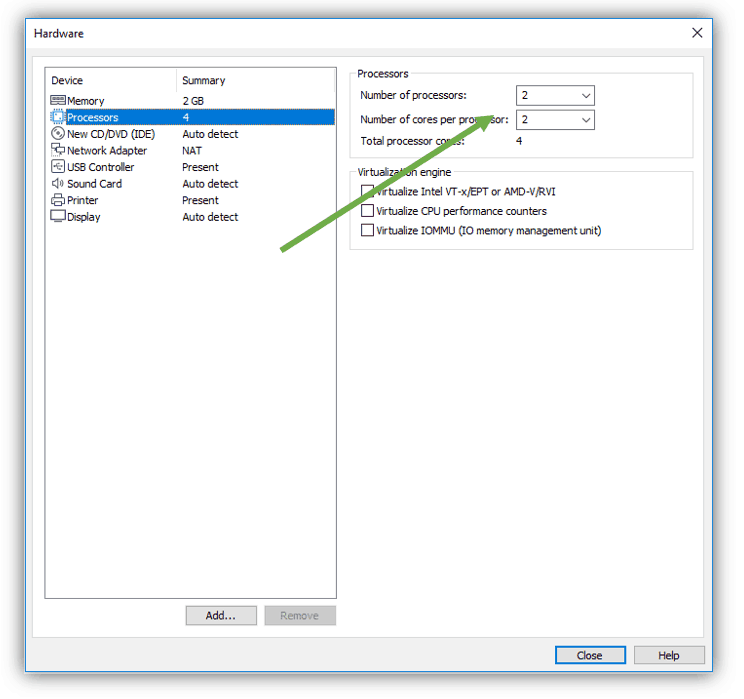 In the hardware customization there are many other settings that you could change than just memory and CPU, but I am not going to touch anything else.
Once you are done with hardware customization you may click on Finish.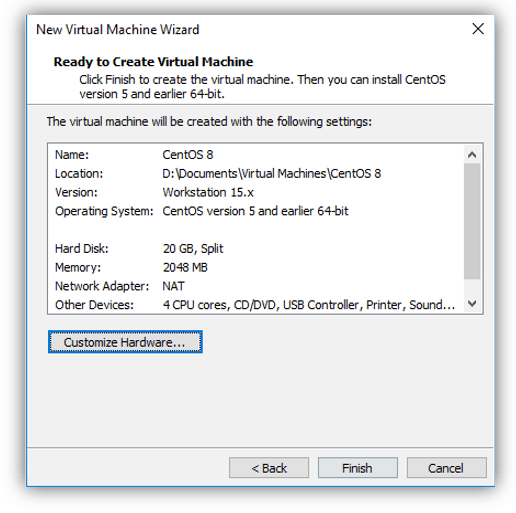 Step 7. Attach the CentOS iso file.
Remember, we have not selected CentOS 8 iso file yet in the vmware workstation pro. To add the ISO file, right click on guest VM and click on Settings.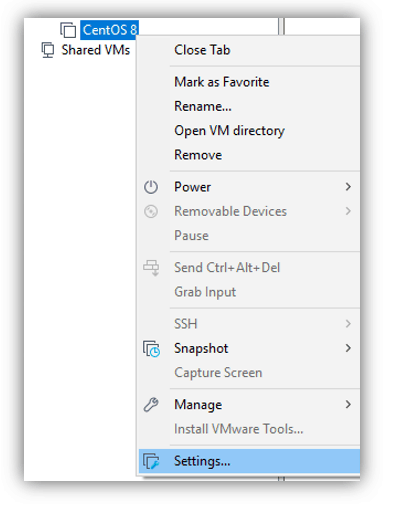 In the virtual machine settings windows click on CD/DVD, and check the option which says 'Connect at power' on and attach the Centos 8 iso image under Use ISO image file.
Then click Ok.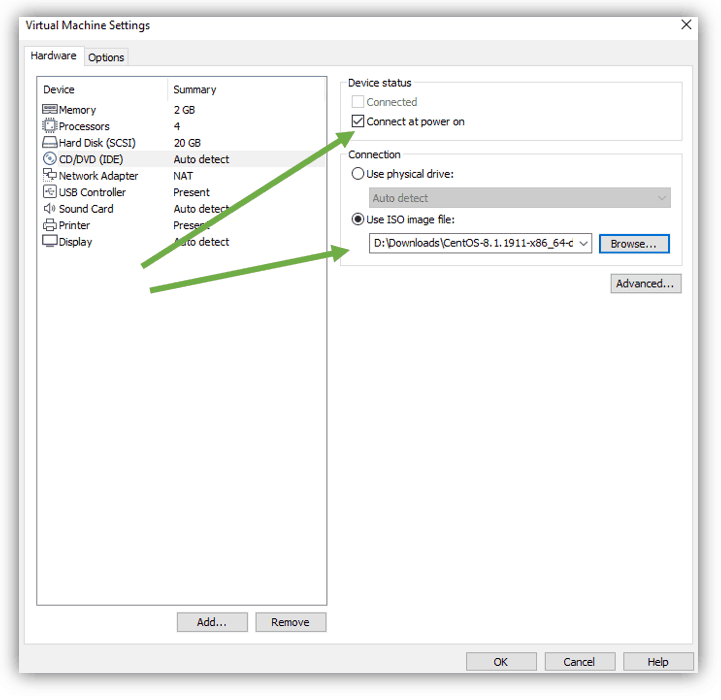 Step 8. Begin CentOS installation on Vmware workstation 15.5.
You may power on the Centos VM now.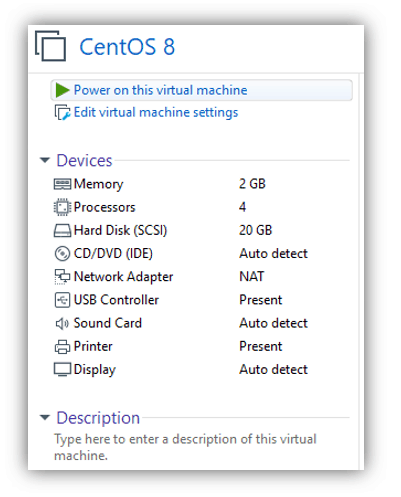 Unlike error message this time you would get centos installation setup wizard. Use the arrow key to select Install CentOS Linux 8 and hit enter.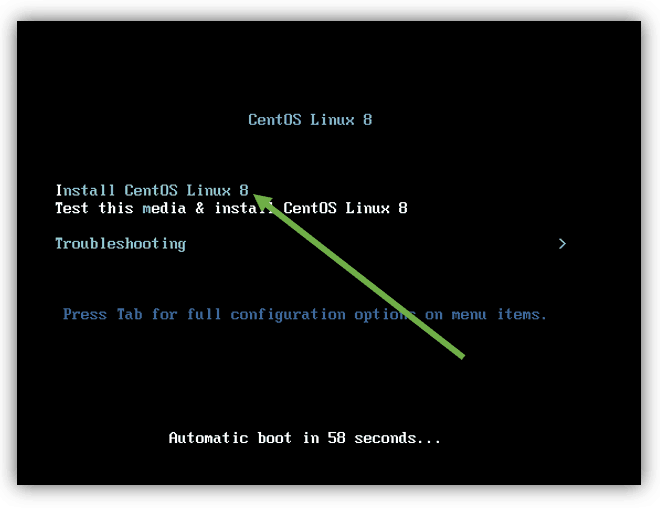 You would get a prompt to select the Language, choose your appropriate language and click continue.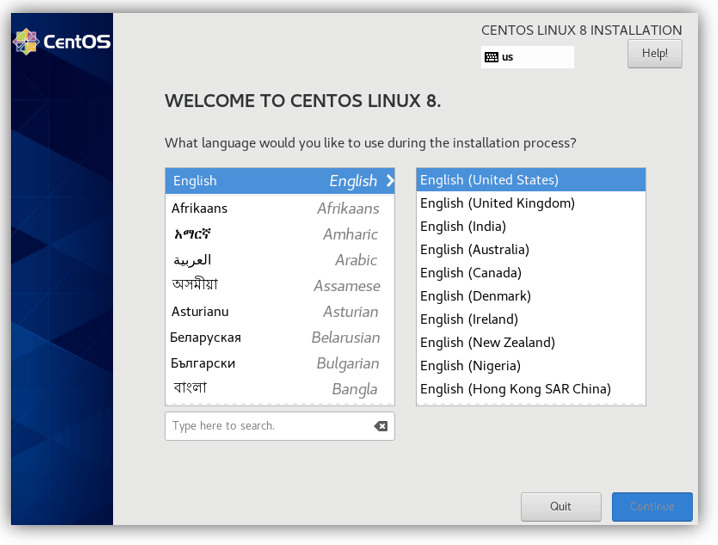 You would be presented with installation Summary screen now. You would have to tell the installer that where it has to install the CentOS vm. Click on Installation Destination.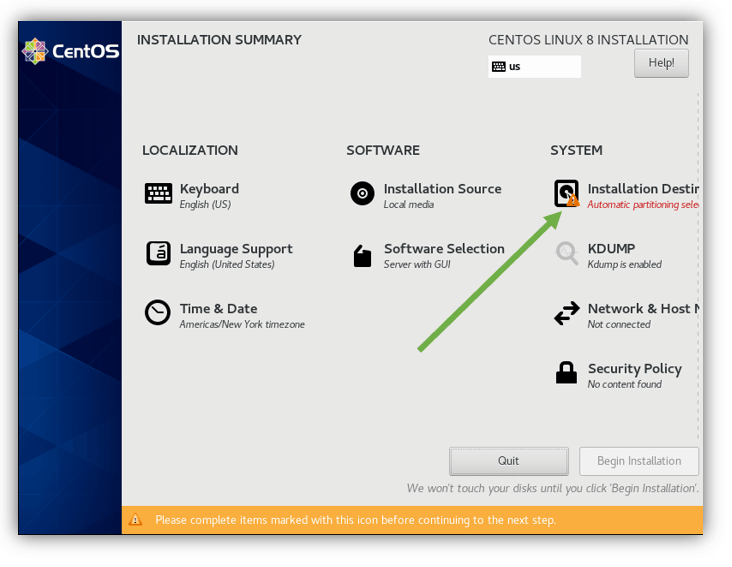 Select your desired drive and click on Done.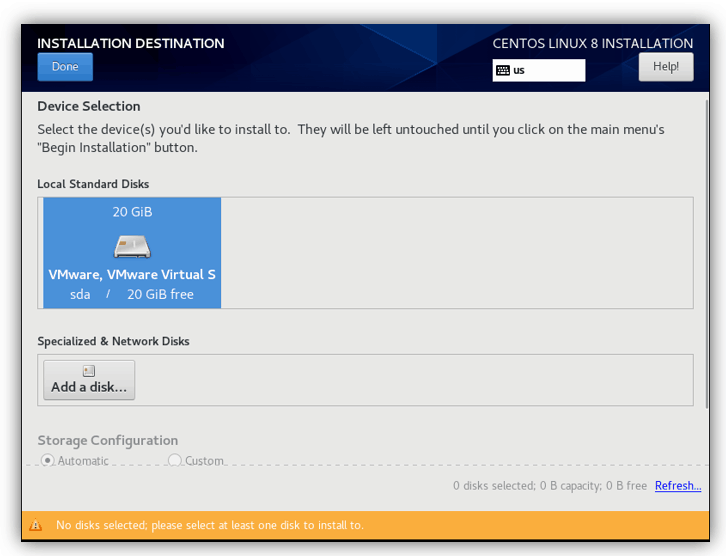 Next you would have to select the Software's that you need to install along with the CentOS. By default Server with GUI selected. Which is what I wanted. Along with this I would like to also add SNMP service on this machine. So click on Software selection.
By keeping the server with GUI I also selected Remote Management for Linux. This would help me setup SNMP on this machine in case if I wanted to monitor the VM. Click on Done and Begin installation.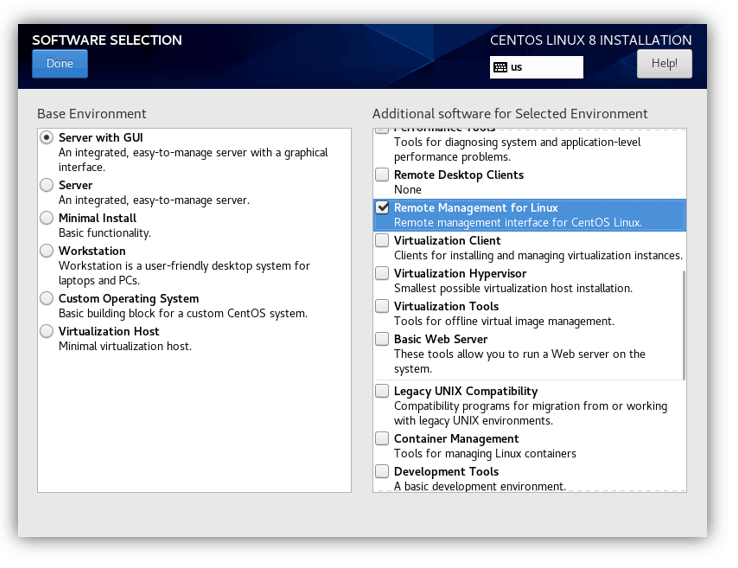 Installation now begin However, you would have to set the Root password also create user account for this machine.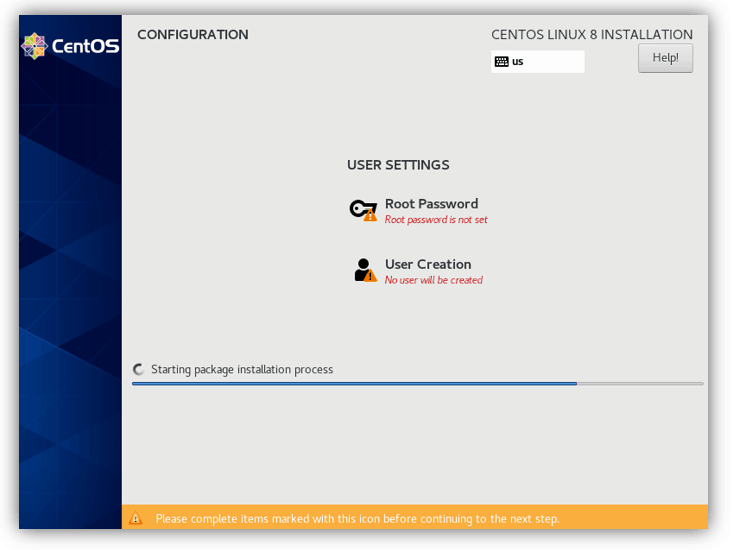 Click on Root password, after you have set a strong password click on Done.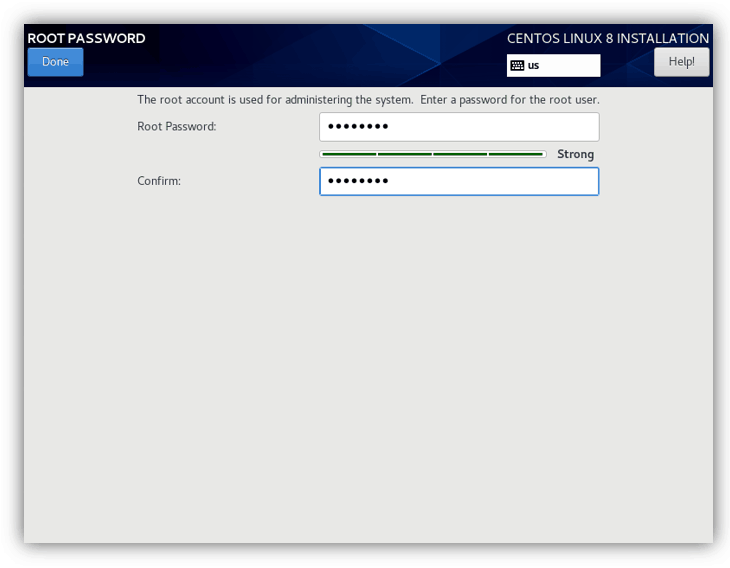 Next click on User creation and define user information with the credentials. Click on Done.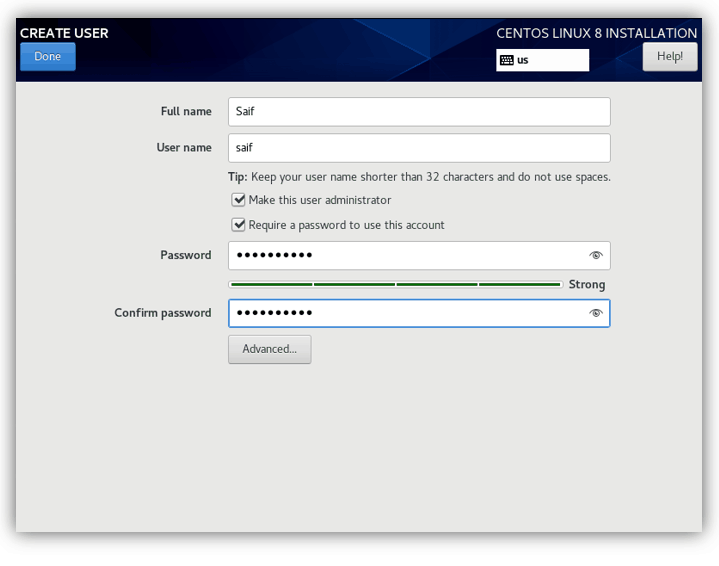 The installation process may take sometime.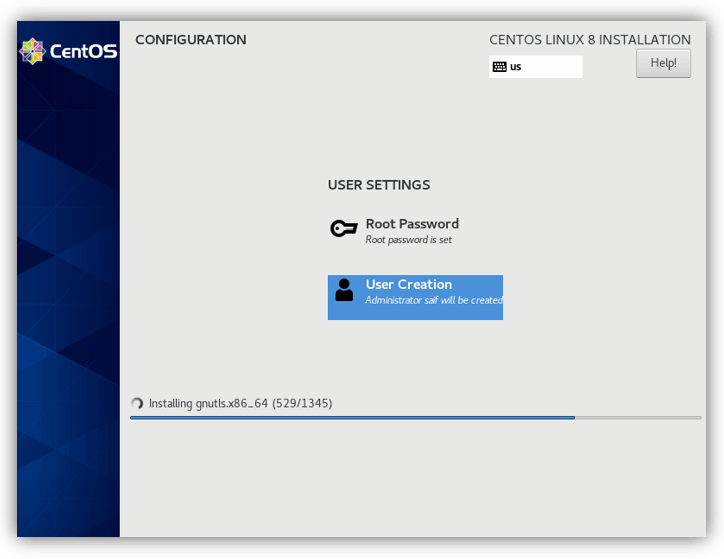 Step 9. Reboot the CentOS VM.
Once the installation is completed you may go ahead and Reboot the machine by clicking on reboot.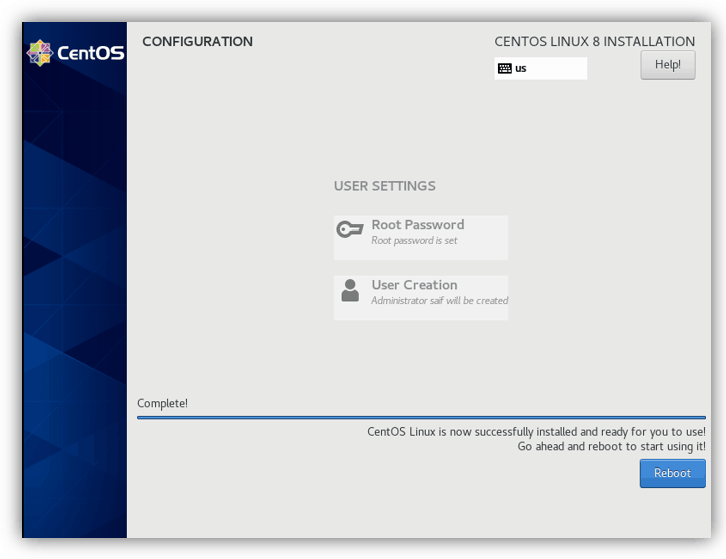 Step 10. Accept the CentOS license agreement.
This time you would get a full screen windows as compared to previous small windows during the installation steps. You would have to accept the license agreement by clicking on License Information.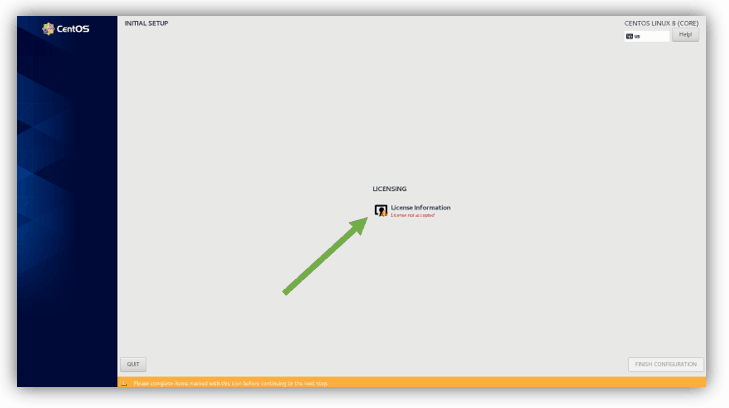 Accept the license Agreement and click on Done.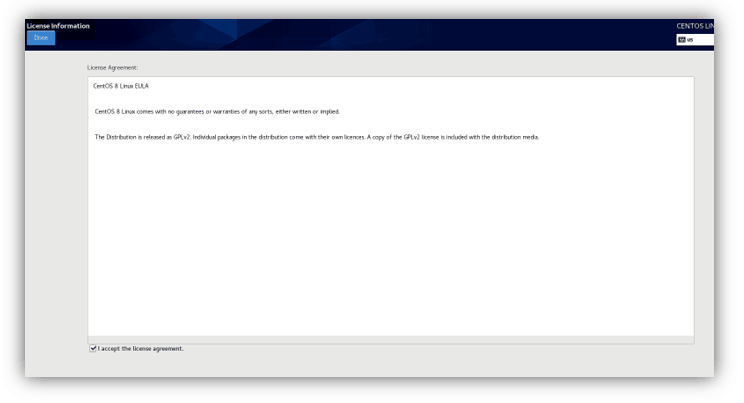 The installation is now completed and you would be presented with the login screen.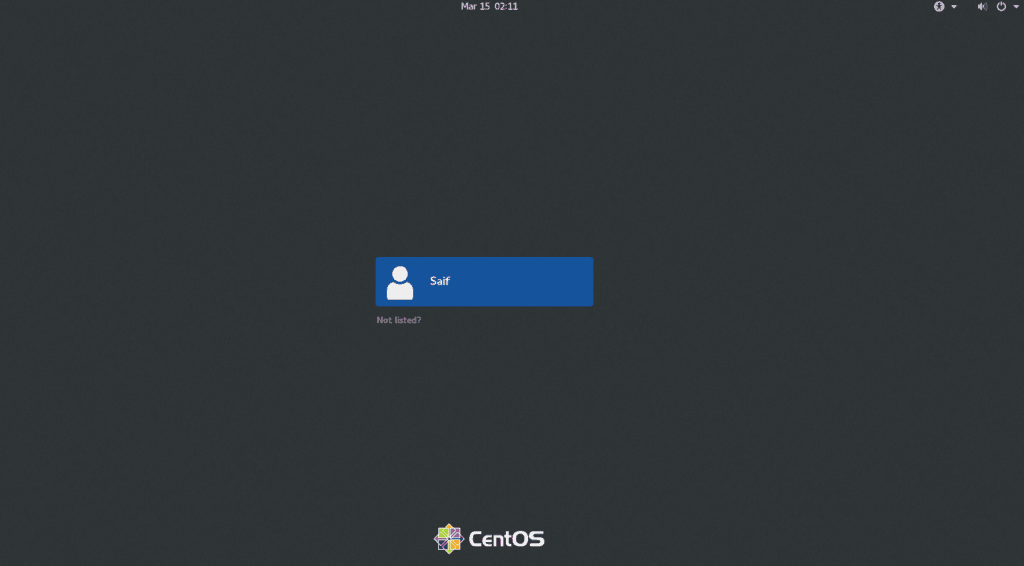 Once you logged in you have to select the Language for the machine.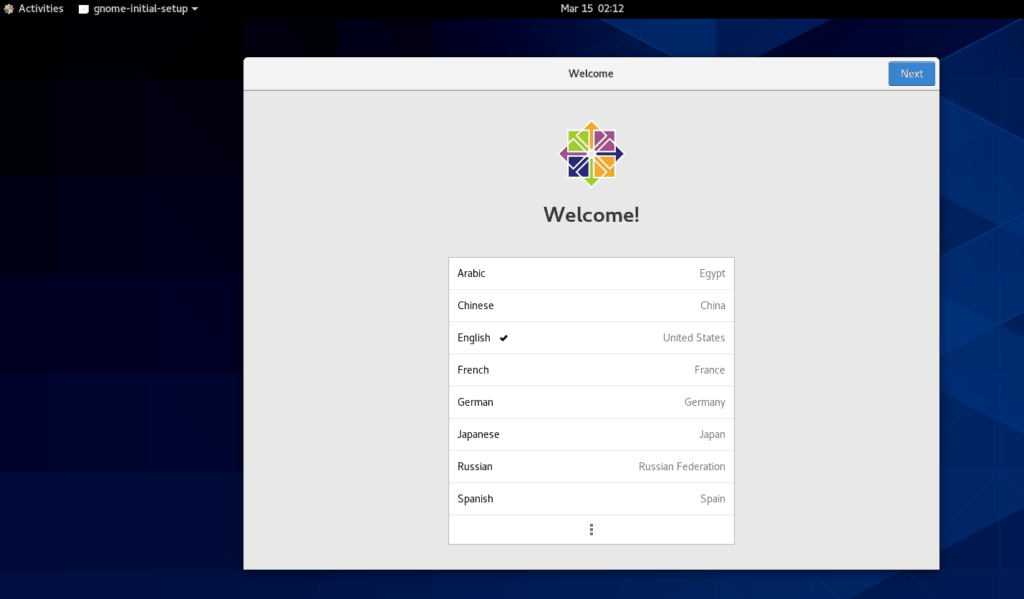 And once you are done with post installation steps, you would be presented with the screen that says You are ready to go.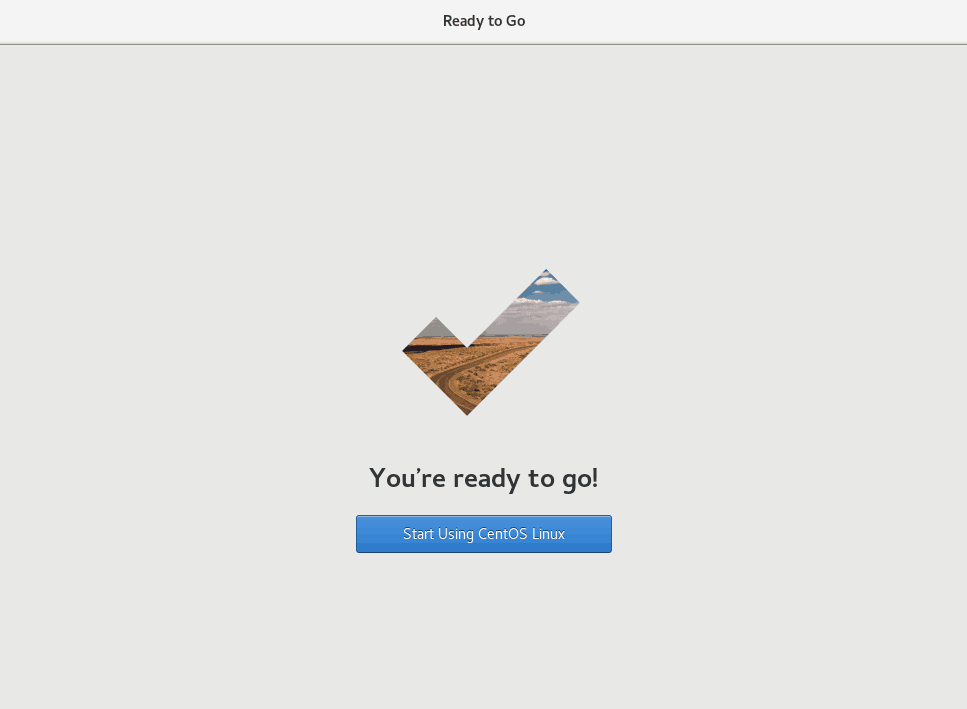 Click on start using CentOS Linux and you would be presented with the desktop like below.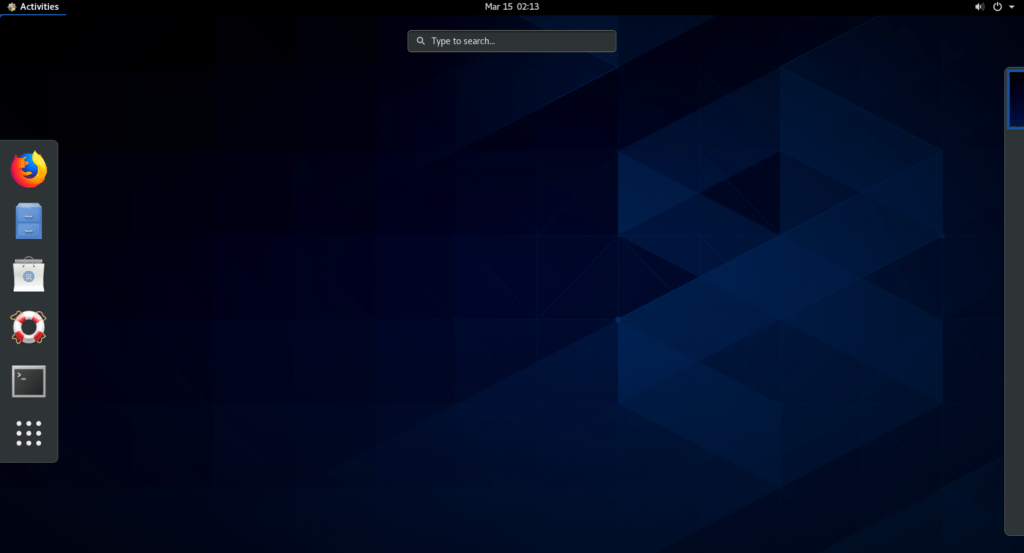 Congrats! You have now successfully installed Centos 8 on Vmware workstation pro 15.5. In case if you have further questions, let me know in the comments section below.
---